Mobile Content-Application
FlicknBlog
FlicknBlog is a mobile blogging application that lets you instantly publish photos from the camera on your phone to an online photo blog to share with others. Also, you can post your blogs directly form your mobile to several well known blog web sites in the world like Word Press, Live Journal, Flicker etc.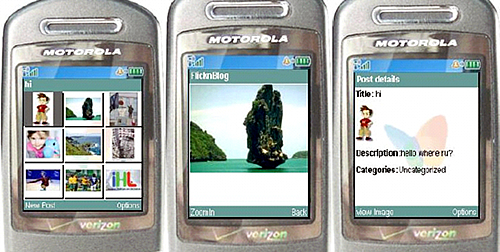 Data Sheets
(Click To Download)
---
MobiLock
Secure your private 'data' on a misplaced/lost device. For such an occurrence in which you do not have access to your device, MobiLock® lets you protect your data via SMS control or via the Remote Control option in our website.
Optionally MobiLock® can report on the action performed to a mail or SMS address on Remote / SMS Control. We care for your security – unauthorized personal cannot access the device with out a password, you can also specify additional lock criterion.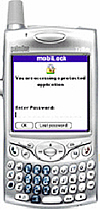 Data Sheets
(Click To Download)
---
Data Sheet – IM(Causerie)
"Unified" Messenger for your desktop
IM ("Causerie") is an easily configurable chat tool, complete with skins and a fully customizable user interface. Causerie allows you to login to six simultaneous accounts supporting Yahoo, MSN, AOL, Jabber, ICQ and Google Talk. You may also login to two accounts of a given messenger type (Yahoo / MSN / AOL / Jabber / ICQ / Google Talk). While supporting the standard features such as chat, file transfer, group chat, chat rooms, buddy icons, quick text, status messages, buddy maintenance (Add/Delete buddies), Causerie provides capabilities not possible with original network clients like Bots (Information retrieval from 3rd party web sites or your own back office software applications), encryption, server side archiving, chat text filtering .
Data Sheets
(Click To Download)
---
Mobile IM (Mobile Causerie) for PocketPC
"Unified" Messenger for your Handheld
Causerie Consumer Version
Features:
Login access to your favorite Messengers like Yahoo/MSN/AOL/Jabber/ICQ and Google Talk. Simultaneous login to six different messenger accounts Access to two accounts of the same messenger type Readily available robots to get important information in a single tap (stocks, weather , traffic, quotes, news, eBay, Google, Movies, Horoscope and many more added) Buddy List Maintenance (Add/Delete Buddies Easily) Reflect your emotions and feelings through emoticons/Smiley's New message notification while running other applications Support for Offline Messages Do not miss your offline messages Quick Text Messages : Predefined message support Real time Status Updates.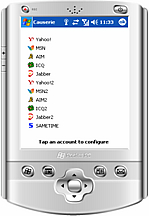 Data Sheets (Click To Download)